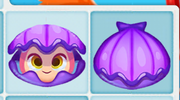 Oyster is one of the elements or collectables on Farm Heroes Saga.
On a regular farm, you wouldn't expect to see any oysters. Farm Heroes however puts oysters next to carrots. Oysters need to be opened by 2 sequential matches next to them. They will close again if the 2nd match doesn't happen.
Oysters are first introduced in level 626, the first level of the 41st episode, Pirate Port.
Ad blocker interference detected!
Wikia is a free-to-use site that makes money from advertising. We have a modified experience for viewers using ad blockers

Wikia is not accessible if you've made further modifications. Remove the custom ad blocker rule(s) and the page will load as expected.