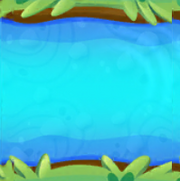 River is one of the elements in Farm Heroes Saga.
A river carries logs to transport Cropsies. The rafts move one step forward with every completed move done by the player. Usually they move clockwise or to the right.
The river is first introduced at level 851.
The moving rafts create permanent movement on the boards with the positive consequence that levels with rivers are rarely stuck. It's also a good thing that they don't increase the luck. The moving of the Cropsies is purely tactical.
This element has the same function as the conveyor belt in Candy Crush Saga. However, unlike the conveyor belt where candies or other movable elements can be on all spaces on it, a Cropsie or other movable elements cannot be on the river itself. They need to be carried by logs.
Ad blocker interference detected!
Wikia is a free-to-use site that makes money from advertising. We have a modified experience for viewers using ad blockers

Wikia is not accessible if you've made further modifications. Remove the custom ad blocker rule(s) and the page will load as expected.