Sheep is one of the elements and collectibles in Farm Heroes Saga.
Normal sheep
Edit

On some levels you are engaged as a shepherd and have to guide some sheep onto a square of hay. Make a match next to a sheep to move it forward to the square of the switch. It is possible to move more than one sheep with a single match. All kind of subsequent matches will not move the sheep. Neither will a shovel or matches caused by a shovel. Frozen cropsies when matched don't have any effect.
Black sheep
Edit

Black sheep are guided just like normal sheep. However, unlike the normal sheep, black sheep eat the hay they are stepping on, so you are unable to guide more than one black sheep on the same spot, unless you plant a hay seed on the same place.
Normal sheep are prior to move firstly to a square of the switch if both kind of sheep are made a match next, and then it is black sheep turn.
On mobile devices black sheep don't eat the hay which makes the game easier.(black sheep=white sheep) its changed now
.in updated version sheep eats hay ( march 2017)
On Android there is no preference when a match is made near sheep of 2 different colors
Sheep may go berserk when mushrooms are in the level. This happens more often on mobile devices.
On mobiles sheep may be moved by water drops spilled by buckets which are matching (rare)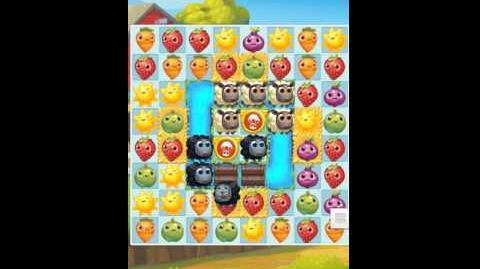 Walkthroughs
Edit
Ad blocker interference detected!
Wikia is a free-to-use site that makes money from advertising. We have a modified experience for viewers using ad blockers

Wikia is not accessible if you've made further modifications. Remove the custom ad blocker rule(s) and the page will load as expected.